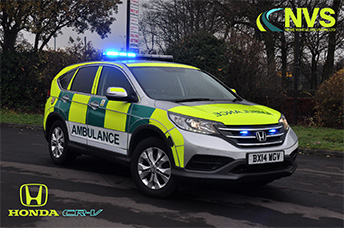 Honda CR-V 4x4 SUV Rapid Response Vehicle Hire
Honda CR-V with VTEC engine and 4WD. Features image recording technology, metal safe, torch, 12v pro charge ultra. 5 door hatchback in Diamond White. Full blue light kit. Avery V8000 Livery.
A fully equipped, ready for the road, Rapid Response Vehicle.
Honda CR-V 4WD RRV Ambulance Hire


The Honda CR-V Rapid Response Vehicle is available to hire on short or long term. Contact Niche Vehicle Solutions Limited on 07436 588302 to discuss your requirements, obtain a quote and book this vehicle. Alternatively please click the button below to enquire by email.