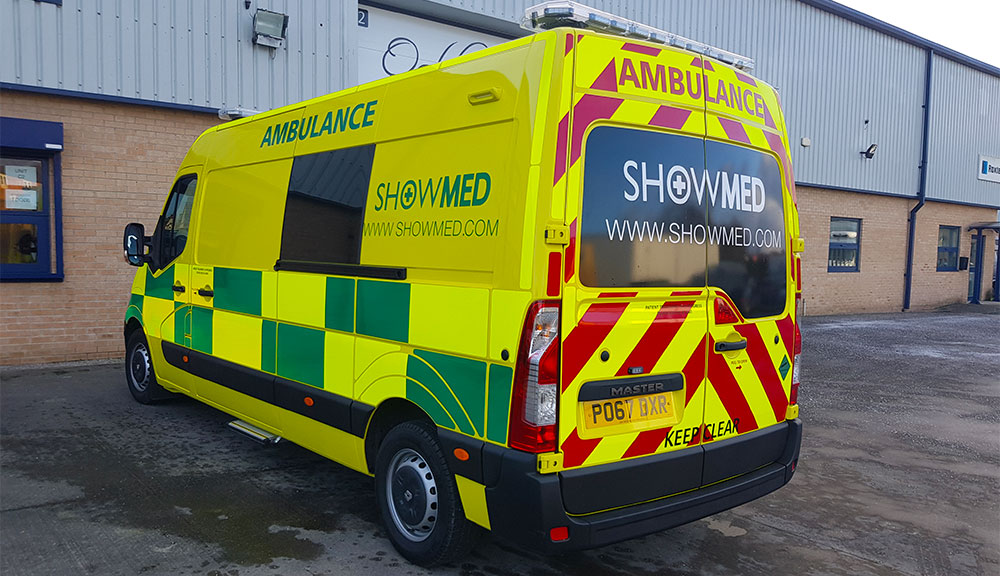 Niche Vehicle Solutions Supplies Renault Master Ambulance to ShowMed
Niche Vehicle Solutions Limited supplies a NEW Renault Master Ambulance to ShowMed a Manchester based medical management, safety and event first aid service company.
We are proud to supply the following specification Frontline A&E Ambulance ready for immediate use:
Factory Specification
Renault Master L3 H2 FWD 130 Euro 6
Warranty 3 years
Air Conditioning (Cab Only)
N/S Sliding Door.
Dual Passenger Seat
Radio/CD Player
Bluetooth, USB socket, DAB and Jack Socket
ABS
Front Passenger Grab Handle
Conversion Specification: Additional Equipment
2 x Fire Extinguishers.
First Aid Kit.
Electrical
Auxiliary Battery, battery to battery charger and Emergency Start Facility.
2 x 12v Power Points at O/S/F panel and bulkhead above cabinet.
1 x LED stepwell light.
3 x LED interior headlining lights. (Driver and saloon controlled).
LED Rear working lamp
External Lighting - Front and rear light bar, 1 x Gatso, 2 x White LED'S and 4 x Blue LED'S
Siren to operate via horn.
1 x Digital Clock.
All electrical equipment to be controlled via touchscreen technology - Includes 2 x touchscreens - 1 x cab and 1 x adjacent to
attendant seat
Run lock System via touchscreen.
On board mains charger.
Auto eject 240v mains socket fitted to O/S outer.
12v to 240v Pure Sine Inverter - 1200watt with engine battery protection and 2 x Single 240v outlets.
LSU Bracket hard wired - (12 Volt)
LED Lamps to O/S and N/S rear
Exterior
Full Exterior body paint to Yellow RAL - 1016
Flooring:
Full floor with vinyl, sealed and overlapped sides.
2 x Low profile floor tracking for wheelchair facility and floor mounted
stretcher fixings for standard and bariatric (Locks not included)
Heating and Ventilation
4.0Kw Diesel Heater.
Internal saloon air conditioning located on parcel shelf above cab.
Sides and headlining fully insulated.
Livery
External Decals - Yellow and Green battenburg - O/S & N/S
External Decals - AMBULANCE - Green - O/S & N/S.
External Decals - AMBULANCE - Red - Rear Doors.
External Decals - AMBULANCE - Green - bonnet - below windscreen.
External Decals - AMBULANCE - Green - above windscreen.
External Decals - Red hatch to rear doors - full height.
External Decals - 1 x Compressed Gas Sign.
Internal Decals - Vehicle Dimension Plate.
Internal Decals - Operational and instructional signs
Miscellaneous.
VOSA IVA Certified and Tested to M1
3 Years Warranty
Rear Access
2.8m x 900m 500kg SWL Ramp
Heavy duty rear door stays.
Saloon.
HX Oxygen Cylinder Holder.
4 Door Cant Rail Cabinet Assembly with 3 x LED Lights and grab rail to underside of O/S cantrail locker.
Bulkhead cabinet with drawers and large bottom drawer.
1m Door Cant Rail Cabinet Assembly N/S. (1000mm approx.).
Bulkhead with sliding window.
2 x Rows of Tilt boxes (8).
2 x Twin CD size cylinder brackets.
2 x White glove box holders above N/S cantrail
1 x Drugs safe built into front locker of O/S Cant Rail cabinet.
1 x Alco Gel dispenser on bulkhead.
Piped Oxygen with 2 outlets N/S & O/S.
Compact 2 Carry chair on N/S/R door. (Chair to be provided)
IV Rail and Clip above stretcher.
Yellow Bump Head pads above side and rear doors.
Scoop, Spine Board and CD Storage to N/S/R. (Rear of seats)
O/S Rear upright cabinet assembly
Drivers night-blind at bulkhead window.
Seating
Single M1 Tip-up seat - Rear facing at head of stretcher.
Plica tip and fold at N/S rear wheel arch.
Winga Seat to N/S (rear of sliding door)
All seats to M1 standards, trimmed in ambla, semi-highback with armrests and padded headrests.
Side Access
Underfloor Electric Step at N/S Sliding Door - 600 x 300mm. (Automatic on door operation).
Grab handle to N/S sliding door entrance. (Yellow)
Windows and Surrounds
Sides and headlining full GRP wipe down.
1 x N/S Centre fixed glass with internal blind (Privacy)
1 x O/S Centre fixed glass with internal blind (Privacy